About This Arrangement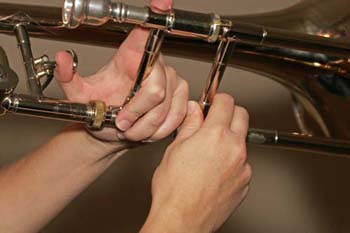 Some Notes
Written in 2016 for Jeff Crandall, a dear friend and my former bishop
Two parts of the song; A Bishop's Song and A Bishop's Prayer
Song represents the range of emotions experienced by those who serve as bishops in the Church of Jesus Christ of Latter-day Saints
A bishop is the spiritual leader of his local congregation, known as wards, in the Church
Dedicated to all the current and former bishops of the Church and their families
The piano accompaniment for the first eight measures is optional. I chose to perform the piece without the opening eight measures of accompaniment.
There is a simplified version of the trombone part for younger trombonists who wish to perform this piece
Music credits: Tammy Kreutz, piano and Kathy Coon, trombone
Music © 2016 Kathy Coon. All Rights Reserved.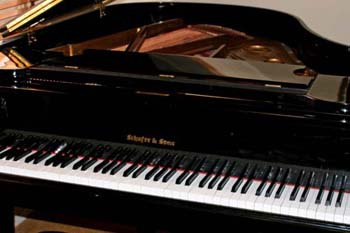 The Story
This piece took several years to come to fruition. When my husband and I bought our house in Mesa in 2009 we were in the same church ward with Jeff and Debi Crandall. We quickly became friends. Jeff was called to be the bishop of our ward in April 2013. He served as my bishop until February 2016 when our ward was divided and we were no longer in the same ward. As a result of our interactions and friendship I wanted to write something beautiful and moving for him; a musical composition that would do justice to the depth of my feelings for the man and the office. This composition is the result of my efforts in this endeavor and is dedicated to all current and former bishops of the Church and their families.
I have been a member of the church my entire life. I have lived in several different places and been in many different wards and stakes during my life. No matter where life has taken me, my family and I have been blessed by the service and love of faithful bishops. I am grateful for all these bishops have done for me and my family.
A Few Words About Bishops
Bishops, as previously stated, are the spiritual leaders of their congregations. They typically serve for a period of about five years and are chosen from among the congregations in which they live. They work closely with the members of their wards and have two counselors to assist them in their work. Bishops receive no financial compensation for their service. They are given regular training throughout the time they serve. However, they do not attend any sort of religious school to qualify them to serve as a bishop. They have professional and family responsibilities just like the members of their congregation do. Members of the Church do not aspire to be bishop nor do they campaign for the position. A bishop grows spiritually during his service. Bishops are chosen through inspiration, which Mormons believe comes directly from God.
An element that is crucial to a bishop's ability to serve is the support of his wife and family. Bishops sacrifice a lot of time with their wives and families to discharge the duties of their office. He must balance these responsibilities with the needs of his family. The needs of a bishop's family take precedence, though. Bishops must honor confidentiality when members share things with them. Sometimes that burden is very heavy. A bishop's wife is asked to love and support her husband without knowing the details of the things members share with the bishop. Bishop's wives are often referred to as the third counselor in the bishopric because of the love and support they give. This composition is also for them.
About The Piece
I chose the trombone to represent the bishop for two reasons. First, Bishop Crandall sings with a beautiful tenor/baritone voice. When he was my bishop I was one of the ward organists. The bishop sits right in front of and next to the organist. I enjoyed hearing him sing the hymns and hum the melody of the prelude music in my ear. It was something I grew accustomed to hearing each week when I played. I found it very relaxing and soothing. I really miss hearing it. Second, the trombone is the tenor instrument in the band. There is a power and fullness to it's sound that was right for this piece.
The simplified version is for younger players who wish to perform this piece. The high notes that are at the extreme high end of the trombone's range are taken down an octave.
The first two sections, A Bishop's Song, reflect the variety of different emotions a bishop feels over the course of his service. When a bishop is newly called it is very overwhelming. It has been described as the deer in the headlights feeling. The newly called bishop quickly feels the weight of his calling and the responsibilities he has to his congregation. It is a time of great adjustment for him and his family. However, the new bishop and his counselors are given heavenly help as they grow into their calling. It is really neat to watch and one of the great miracles in the Church. This is the first section of the song. I chose to play the first eight measures unaccompanied to show this period of adjustment.
The second section represents the challenging and sometimes turbulent nature of a bishop's call. Bishops are the spiritual rocks of their wards. They counsel with members who are struggling with a wide variety of issues. Sometimes they have to tell members things they don't want to hear but need to hear. The story doesn't always have a happy ending. Bishops feel love for all the members of their ward and it is difficult for them when their members struggle. Due to the confidential nature of their counseling duties, bishops are often alone in this responsibility. They can talk to the stake president about it but may not share it with anybody else, not even their counselors. It is a lonely place to be. A bishop is driven to his knees at times by the burdens he assists members in carrying. From his knees the bishop cries out to God in prayer as he seeks to assist members with these burdens. Yet, even as things are turbulent around him, the bishop is blessed with strength to be able to stay upright and successfully navigate the storm. Regardless of what's going on around him things seem to work out.
The final section is called A Bishop's Prayer. It is an attempt to capture the feelings a bishop has when he is alone, praying and pleading for individual members of his congregation as well as the ward as a whole. It is a conversation between the bishop and God as he seeks revelation to guide him in his calling. God is always there supporting and directing his bishops. They are never alone. While I was writing it, in my mind's eye, I could see my current and former bishops praying for me and my family. These kinds of prayers are sacred, personal and intimate spiritual experiences between the bishop and God. I did my best to capture this feeling in the music.
All Piano & Small Ensemble Music